Feb 18, 2011 at 12:52 PM
Here we have a hopefully helpful visual approach of explanation for the correct translation of germanies current former minister of defence commenting on the reason for his current appearance in the media:
My very own dissertation isn't plagiarism but was written by myself, and I enforce to refuse this accusation." (translated into english by me, considering the inherent complexity of this sentence, expect multiple errors 8).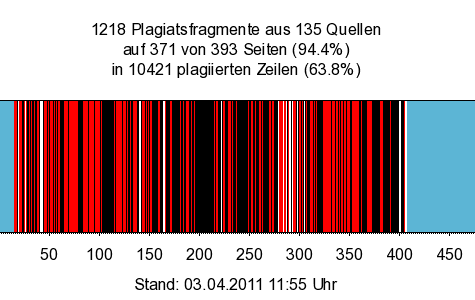 It might be worth mentioning, this barcode only holds for correlations in a literal sense, as these are more or less easy to detect in time. It's not really ment to say anything about the consens and uniqueness of this work. The image is hotlinked from the inofficial Guttenplag wiki which was dedicated to this blooper of political day-to-day business.
Apr 29, 2010 at 11:11 PM
A lot of things said right, eventually worth a note.
Apr 28, 2010 at 02:08 PM
Well then, what would you do as the worlds biggest online auction company? Take care that your customers stay satisfied and ensure reliable online services? Well that's a good guess, but eventually it's not really what eBay did.
Read more...
<< Start
< Previous
1
2
3
4
5
Next >
End >>